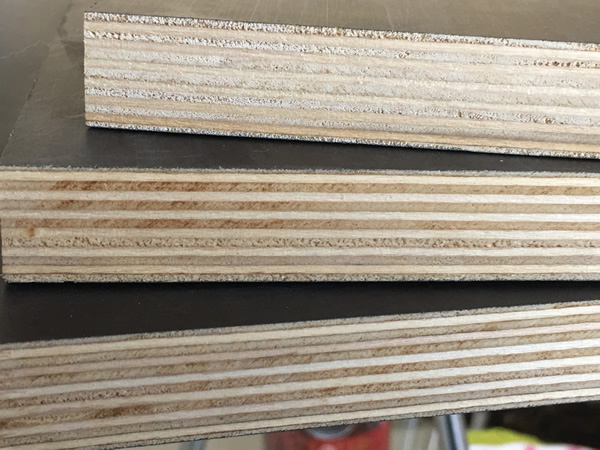 1)Birch Core Film Faced Plywood (Contreplaqué Filmé De Noyau En Peuplier/Pappelkern-Filmbeschichtetes Sperrholz)
  Specifications:
  Thickness: 9mm,12mm,15mm,18mm,21mm,25mm,27mm,30mm.
  Size in sheets: 12x2440mm,1250x2500mm, large size is available.
  Material: Birch
  Glue:WBP phenolic or melamine.
  Min.order: 1*40HQ
  Delivery Time: 15 days after payment
  Payment: L/C,T/T,
  The Poplar Core Film Faced Plywood Can be About 6-10 repeated using times according to formwork application projects.
Product

Film faced Plywood

Species

Poplar/Birch/Eucalypts

Film:

Black /Brown/Red

Grammage:

180g/㎡

Size:

18mmx1220x2440 BROWN

Glue:

WBP:Melamine/Phenolic

Sr.
No.

Property

Unit

Test
Method

Value of
Test

Result

⒈

Moisture Content

%

EN 322

10%

Check out

⒉

Density

kg/cbm

EN 323

580

Check out

⒊

Bonding
Quality

Bonding
Quality

Mpa

EN 314

Max: 1.37

Check out

Min: 0.65

Damage Rate

%

-----

65%

⒋

Bending
Modules
of
Elasticty

Longitudinal

Mpa

EN 310

6800

Check out

Lateral

5200

⒌

Bending

Longitudinal

Mpa

48.3

Check out

Strength

N/mm

Lateral

35.7

⒍

Cycle Life

About 6~10 Repeated Using times According

Projectes by formwork Application